Color Shading: A graded force activity for kids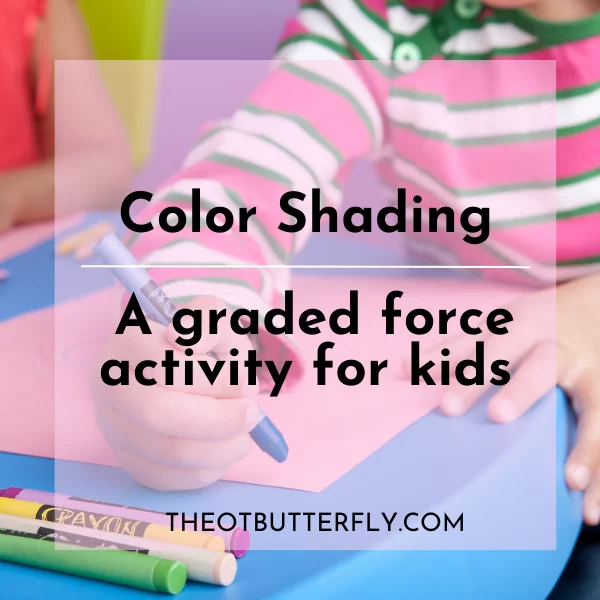 I'm such a big coloring fan. I love coloring mostly with crayons or colored pencils because I love the versatility in shades that you can create just with slight adjustments in force (aka graded force).
If you need a quick introduction to graded force, you can read a little more about it and a long list of activities here.
Why coloring works on graded force
You can create a wide range of shades depending on how hard or soft you color with a crayon or pencil.
You might be familiar with students who push too hard with pencils or crayons: the hulks of the classroom who seem to break them often.
Or, maybe you're familiar with kids who write too soft and it's too difficult to read their writing.
To place the appropriate amount of pressure on a pencil or crayon, one needs to have a good "feel" of the pencil in their hands, which relies on tactile and proprioceptive feedback. 
Materials
I'm creating this from #quarantineland so you know these are easy to find materials around any household (or clinic).
1. A colored pencil or crayon and a pen
2. Paper
How To
Decide on how many "levels" of shades you want to create. You should use at least 2 levels, but probably no more than 5. 
Number your paper with the amount of levels you decided on
Draw in squares or circles or any other shape next to the numbers. You want to have at LEAST 2 columns (one for the sample, and one for your child to recreate). You could have as many columns as you want for the child to practice more.
Fill in each shape for the first column to illustrate the shade for each level. 
Have your child recreate the same shade in the rest of the shapes. 
For an added challenge, call out levels for your child to complete out of order.