Neurodivergent kids (with or without any specific diagnosis) have differently wired brains, which impacts their ability to process sensory information from the world, and may have a difficult time controlling their reactions or responses to things.
Do any of these triggers sound familiar?
transitions (having to clean up, time to go to bed)
boundaries (when you say no)
trying new foods/not having their safe foods all the time
having to put on new or different clothes/shoes
being around busy environments, crowds or sounds
unexpected changes to routines or schedules
after school or before school routines
things not turning out as planned
you're not alone!
One of the most common questions I get asked is "What can I do when my child melts down?" or, "How do I stop my child's meltdowns?"
Here's my short, not-so-groundbreaking answer:
You can't really STOP a meltdown. I don't have a secret phrase or magic stop button to end meltdowns.
But I can tell you that you're probably focusing your energy on the wrong thing.
INTRODUCING
The Demystifying Meltdowns Workshop for Parents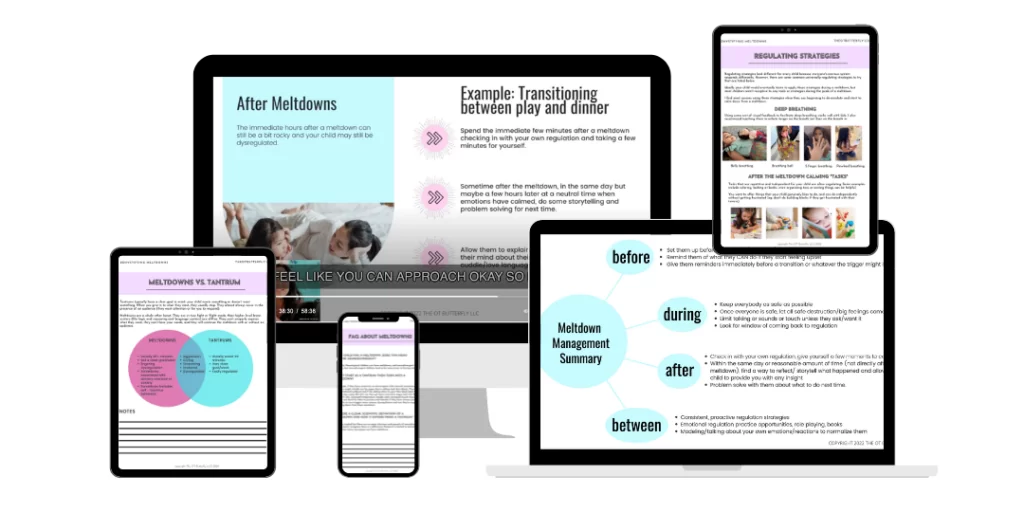 A 60-minute, pre-recorded masterclass to help you learn the best way to respond to your child's neurodivergent meltdowns in the time before, during, after, and between.
Instead of trying to stop the meltdowns once they start, or trying to only distract them from it once they begin to escalate… it's important to also focus your energy on all the times surrounding the meltdown, especially with a neurodivergent child.
I'll show you exactly what that means and what that looks like in the Demystifying Meltdowns Workshop for Parents.
After the workshop, you'll walk away knowing
THE DIFFERENCE BETWEEN A TANTRUM AND A MELTDOWN (AND WHY IT MATTERS)
COMMON MELTDOWN TRIGGERS
HOW TO SUPPORT YOUR CHILD BEFORE A MELTDOWN
EXACTLY WHAT TO DO AND SAY DURING A MELTDOWN (

EVEN THE REALLY AGGRESSIVE ONES!)

EXACTLY WHAT TO DO AND SAY AFTER A MELTDOWN
THE IMPORTANCE OF REGULATION BETWEEN MELTDOWNS
EASY, SIMPLE REGULATION ACTIVITIES TO TRY
HEY! I'M LAURA
I'm a pediatric Occupational Therapist, a wife and mother to a kindergartener with Anxiety and Sensory Processing Disorder.
I don't even know a life without meltdowns. We have been dealing with intense, 30-90 minute long meltdowns since she was 18 months old.
Kicking, screaming, biting her fingers, banging her head, peeing in her pants… we've been through it all.
The truth is, we're still going through it.
But life feels so much more manageable, even with the meltdowns.
I always tell parents I coach and work with that the biggest impact you can have on your neurodivergent parenting journey is the mindset shifts: understanding your child's brain is unique and having realistic expectations so you can all feel more successful.
Consider me your OT bestie, here to tell it like it is, give you little insights and tricks from an OT lens and a Mama who's in the trenches with you.
HAVE A QUESTION?
Frequently Asked Questions
What age range does this course address?

Most of the information I share in this course is general enough that it can apply to any age, however, a lot of the language, scripts and strategy examples tend to be more applicable to preschool-early elementary age.
My child has extremely aggressive meltdown behaviors, does this help with that?

Yes. This course was inspired by some of the most aggressive meltdowns we've had at home. Keep in mind that the goal of this course is not to stop those meltdowns, but to provide you with the right information and education so you understand them better, AND sharing with you how you should best respond to the aggressive meltdowns in a way that allows you to remain safe (the number one priority).
I'm a new OT/SLP/teacher and just really want to learn more from you, can I take this course?

Anyone is welcome to take this course, but keep in mind no units for continuing education is provided and the language/examples used are specific to the home environment.
My child doesn't have a diagnosis of any kind, will this program still help me?

Yes. This course doesn't mention any specific behaviors, other than intense, long lasting meltdowns.
My child is non-speaking, can this still help me?

A lot of the strategies I provide work best when you do have a way of communicating with your child. However, if your child is unable to participate in conversations and can't cognitively comprehend your language, this course can still give you insight into the meltdowns themselves so you can understand them a little better. Some of the strategies and scripts will not apply as much if you don't have a way of communicating with your child.
Do you offer refunds?

No. All digital content sales are final.