Do's and Don'ts for Evaluating Therapists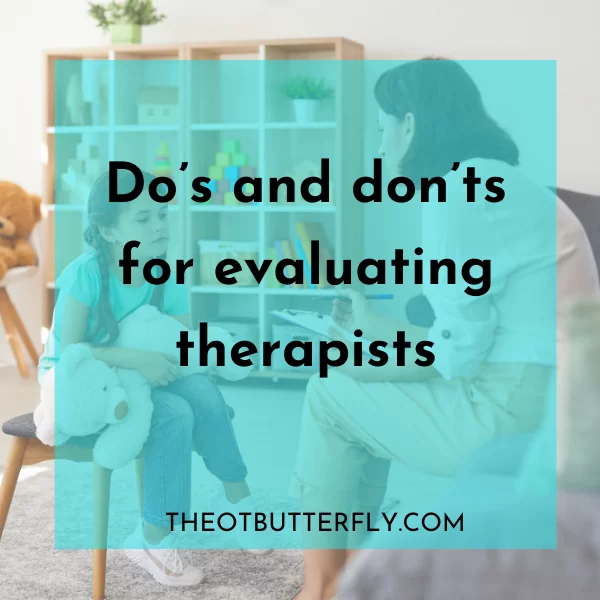 The tables were turned recently, when I found myself sitting on the other side of the table, as a parent having her child evaluated by developmental specialists. In the past three months, she has been evaluated by neurologists, a developmental pediatrician, an occupational therapist (not me!), and a child psychologist. 
---
Aside from the stress and concern about what the outcome would be, I knew I had to make this a learning opportunity for myself as an OT practitioner. Needless to say, I was not impressed by many of the practitioners we worked with and was shocked, to say the least, by some of the events that happened and the comments/questions that were presented to me.
---
While I don't wish for any parent to have to experience this, it's been invaluable to my practice as an OT. For those of you who won't get this insightful opportunity, are new to practice, or aren't parents, please continue reading, and take notes.
---
Before the evaluation
CLEAR YOUR MIND, BE 100% PRESENT: Consider all of the hoops these parents have gone through just to walk through the door and see you face to face. Insurance calls, paper work, advocating with their pediatrician, cancelling/reschedule work. They deserve your undivided attention and focus to make this evaluation and assessment worth it. 
---
KEEP AN OPEN MIND: If you spend time going over developmental/medical history of the child beforehand, it's okay to keep those in mind as you're evaluating and making recommendations, but be mindful of how much of that information (e.g. diagnoses) might cloud or bias your assessment. 
---
---
During the evaluation
ASK THE RIGHT QUESTIONS: But more importantly, don't ask the wrong questions. The questions that are presumptuous and the questions that are judgmental. For example, DO NOT ask: "Do you think you have done anything in the past that might have caused her challenges?" ( YES, I was really asked this, to my face).
---
LISTEN:  No really, LISTEN to the parents. Don't just nod and write them off in your head. Actively listen, reflect, and hear what they have to say. Take their parent report into your consideration of your assessment. Parents are the experts on their children, and no matter what behavior or presentation you're seeing in that 1 hour snapshot of that child's life, the parent has seen it all, usually times ten!
---
DON'T SHOW UP IN COSTUME:  you think this goes without mentioning, but please, for the love of everything- even if it's a holiday, do not show up to an evaluation for a new client in a costume. It could potentially cause anxiety/stress response and skew your observation of that child (YES, this really happened to us!) 
---
After the evaluation
GIVE PARENTS HOPE: Before the parents leave, try to give them SOMETHING to hold on to, a tip, hope, a podcast, a resource to get them through to the time you send them the report and start therapy. Some parents' journeys at this point are months, maybe even a year in the making, and waiting another few weeks for the results can be grueling. 
---
DON'T TURN THEM AWAY WITH NOTHING: If you are not recommending therapy, still give parents something to help them. Whether it's a referral to a parenting support group, a list of helpful developmental activities, or a referral to another professional who might suit their needs; don't just turn them away with a bill and a generic statement of how their kid is typical and doesn't need your services. Parents don't just walk into developmental evaluations for fun, just to "see what's up." They are typically concerned, worried, frustrated, helpless with their child's behavior/emotions/developmental needs and are desperate for answers or help. Sending them off empty handed, because their child doesn't meet a certain threshold or bar to warrant therapy isn't acceptable. Have a list of resources ready to go and hand off to them to make this easier.
---
The next time you evaluate a client and their family, please keep these notes in mind. To you, it's just another day at work. To them, it's a big day.
---